Dipl.-Biol. Dirk Mezger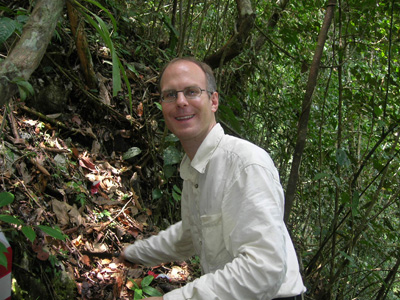 Geburtstag und Geburtsort:
Momentaner Arbeitgeber:
Komplette Adresse:
Institute Experimental Ecology
Ulm University
Albert-Einstein Allee 11
D-89069 Ulm
Land:
Telefonnummer:
Faxnummer:
E-Mail Adresse:
Private Webseite:
Forschungsinteressen:
Tropical Biodiversity, Myrmecology, Taxonomy of insects, Biogeography, Ecology, Tropical Soil Food Webs
Forschungsgebiete:
Forschungsprojekte:
For a description of the current research projects please click here!
Publikationsliste:
Mezger D & Blüthgen N (2007) Trophobioses on Borneo climbing bamboo - diversity and ecology of ant- hemipteran associations on Dinochloa trichogona (Poaceae). Asian Myrmecology 1: 59-68

Blüthgen N, Mezger D and Linsenmair KE (2006) Ant-hemipteran trophobioses in a Borneon rainforest-diversity, specifity and monopolisation. Insectes Sociaux 53 (2): 194-203.
Konferenzbeiträge:
Mezger Dirk, Pfeiffer Martin (2007) Leaf-litter ant communities in two types of rainforest in Borneo (Sarawak/Malaysia). 20. Ann. Conf. of the Society for Tropical Ecology (GTÖ), Bonn, 21-25 Feb. 2007.

Mezger D, Linsenmair KE & Blüthgen N (2005). Trophobioses between ants and hemipterans in a tropical rainforest in Borneo. Poster presented at the 18th Conference of the German Society of Tropical Ecology in Berlin, Germany.
Bücher/Filme/Öffentlichkeitsarbeit:
Wieso wurden Sie Ameisenforscher?:
Kommentare: