The last ant pictures "made in Mongolia"
As Martin is leaving Mongolia, he will also take the camera back to Germany. Anu, our Mongolian photographer has taken the chance to show what she has learned in the recent time. Here she presents excellent pictures of 17 ant species. The specimens have been donated and lend by Prof. Seiki Yamane, our Japanese counterpart, who is a exceptionally gifted ant researcher with a very large personal ant collection. We say thank you to both of them! Good luck Anu for your next job & private life!! In the next days our ant lab will move back to Germany after 5 years of stay in Mongolia. We hope to continue from there very soon. But now, please have a look to the photographs, including the typespecimen of Myrmica yamanei, please click!
New issue of Asian Myrmecology
In mid of holidays Asian Myrmecology has published its new issue with 18 most interesting papers on taxonomy, distribution and behavior of Asian ants. Check it out!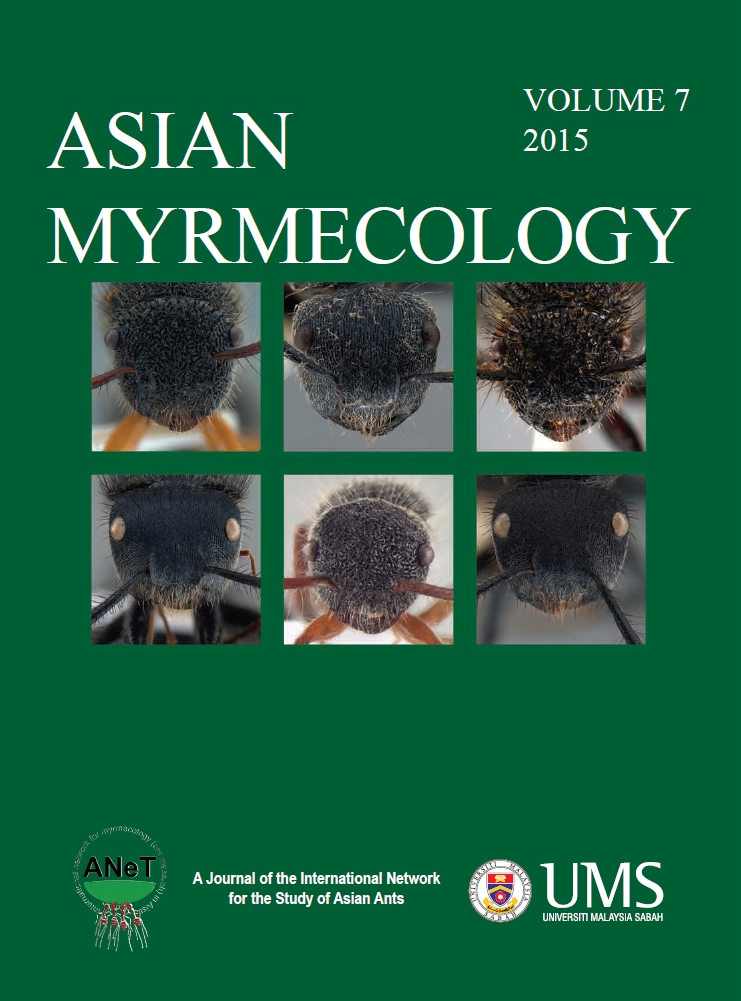 ANTMAPS - a new online tool to visualize ant diversity and ant distribution
Benoit Guénard, University of Hong Kong, and Evan Economo, Okinawa Institute of Science and Technology, announce the release of AntMaps.org, a new online tool developed by Evan Economo, Julia Janicki, Benoit Guenard, Nitish Narula, and Matt Ziegler, to visualize ant diversity and distributions based on the Global Ant Biodiversity Informatics (GABI) database. GABI is a compilation of currently 1.6 million records of ant species occurrence records from nearly 8500 publications and numerous museum and specimen databases. We hearty congratulate to this effort that should also be a tool to identify erroneous or suspicious ant records. So if you are a specialist for a certain group, please check your favorite species!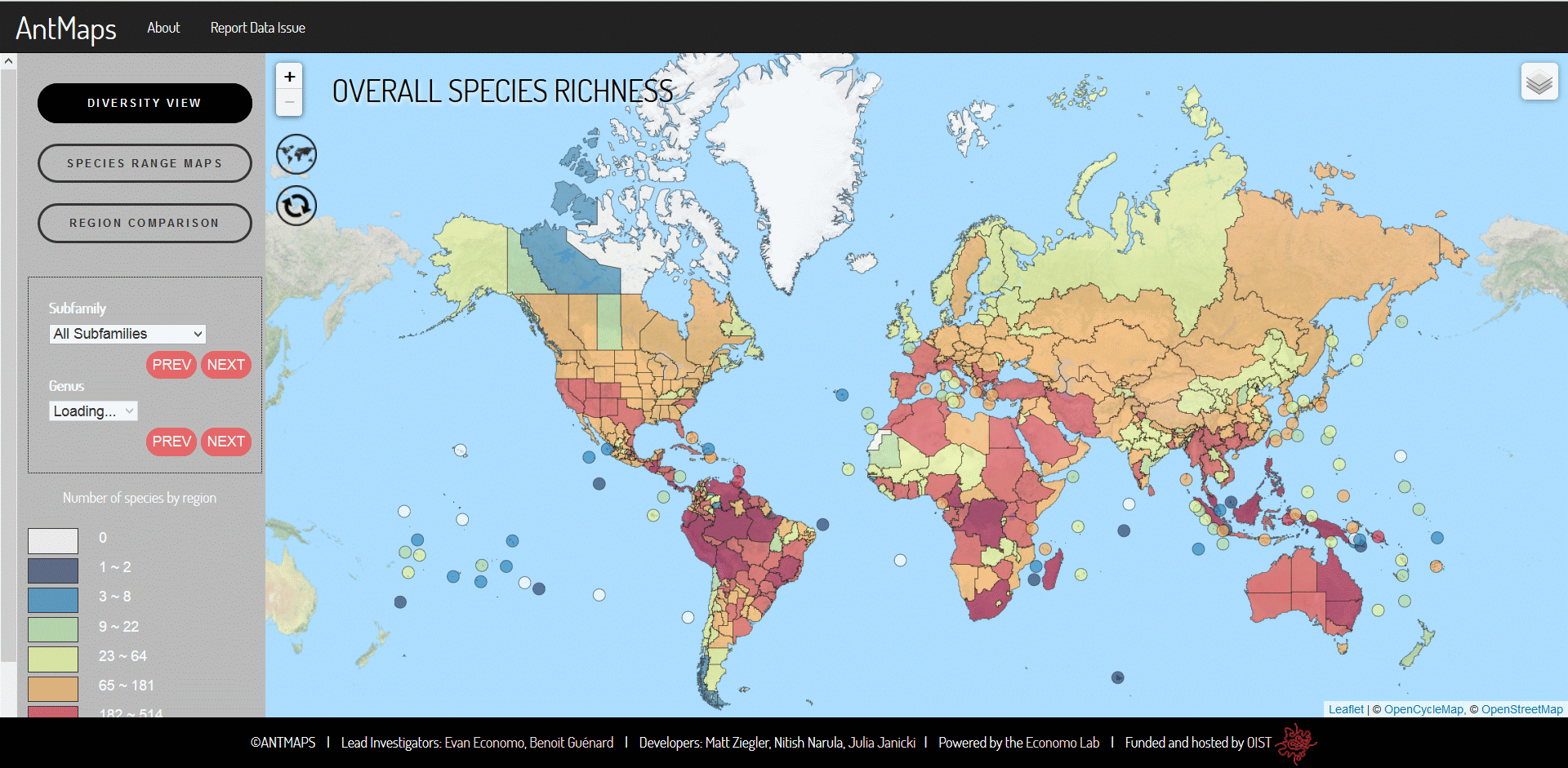 There are several visualization tools implemented in AntMaps, 1) the Diversity View: the visualization of species richness patterns for any subfamily or genus, with clickable species list for each area , 2) the Species Range Map: you can view a range map for all 15,000 species and subspecies, with clickable access to underlying records behind the occurrence of a species in an area, 3) the Region Comparison: you can compare the overlap of species between any two regions, or map the geographic spread of species that occur in a given region.
Higher impact for Asian Myrmecology
Good News for Ant Researchers: ASIAN MYRMECOLOGY enhances its Impact Factor to 0.889, rank 54 in Entomology! 5-years-IF is even 0.912.

A Guide to the Ants of Sabangau (Indonesia, Kalimantan)

Indonesia has the largest extent of tropical peatlands in the world, mostly in Borneo, Sumatra and Irian Jaya, covering 20.7 million hectares and storing 65% of all tropical peat carbon. The peat-swamp forest in the Sabangau catchment, Central Kalimantan, Indonesia, comprises the largest remaining continuous lowland forest in Borneo, and supports the world's largest populations of Bornean orangutan. The ant fauna of Kalimantan is largely unknown. Field ecologist Stijn Schreven, from OuTrop, Orangutan Tropical Peatland Project, has now made a major attempt to shed some light on ant diversity of that area. In collaboration with a team of local ant researchers, with antweb.org and AntBase.Net he developed a A Guide to the Ants of Sabangau in order to ease identification of Kalimantan ants and to foster future studies on them! If you like to check out this beautiful book, download it here (36 MB, 128 pages). More information on the whole project can be obtained at their webpage..
19 Polyrhachis species from Borneo!
Here are the original photographs of Rudy Kohout's review of the subgenus Polyrhachis, which has been published in the recent issue of Asian Myrmecology, including ten previously described species and new one P. maliau. But please have a look....
Eight more species in December
These rarities from South East Asia and China have been collected and partly described by Prof. Yamane in the recent years. Most of that species have been given to our collection as a gift. We say thank you very much, dear Professor! We hope that you have much luck with further ant collections! Have a look to these beautiful photographs....
A new photographer at www.antbase.net:
fine pics from Yamane san's great collection
After all Khisghee decided to quit her work with us in order to better care for her baby - and Master Thesis. We thankfully ackowlegde her brilliant work and all the beautiful pictures she took for us. But now Lights, Music, Curtain... for our new photographer Anu Nasanbat! She has choosen mainly Dolichoderus species for her first pictures at www.antbase.net.. Quality is fine! Have a look, please....
We are back again: 17 new species from the collection of Prof. Yamane
Our baby brake is over and we are pround to present brand new photographs of 17 species of Aenictus photographed by Khishigdelger. Have a look to these unique pictures!
First call for ANeT 2015 meeting in Sri Lanka

"I am delighted to host 10th ANeT Conference and workshop at University of Kelaniya, Sri Lanka, in 2015", says Prof. R.K.S. Dias, the organizer of the next ANeT meeting that will take place from 23rd to 26th October 2015 in Kelaniya. The first call for this meeting is out now, so please save the date!
A new ant researcher was born!
Our photographer Khishigdelger has given birth to a baby in the last week of May. Mother and baby are fine and we expect that around September antbase.net will come back to normal work again. So please come back to us later!
Type specimens from the collection of Prof. Seiki Yamane
The new year starts with an interesting contribution from Japan. Prof. Dr. Seiki Yamane, Asia's most famous ant researcher, has opened his legendary collection for us, which is the result of dilligent ant sampling for decades. Numerous students and coworkers profited from his ant enthusiasm and several times www.antbase.net was in the lucky position to show some of his thoroughly prepared specimens. In January we showed already a collection of species sampled from South East Asia, in February we present a special on Aenictus, a blind, mass raiding genus inhibitating the rainforest floor. Many of these are type specimens! Check it out!
A hardly known genus of myrmecophilous crickets
The family Myrmecophilidae, the ant loving crickets, comprise five genera, one of it is Camponophilus, with its single member C. irmi - an ant cricket living symbiotically with Camponotus gigas, the Giant Forest Ant. Here we provide automontage pictures of this rare and hardly known species. Check for details!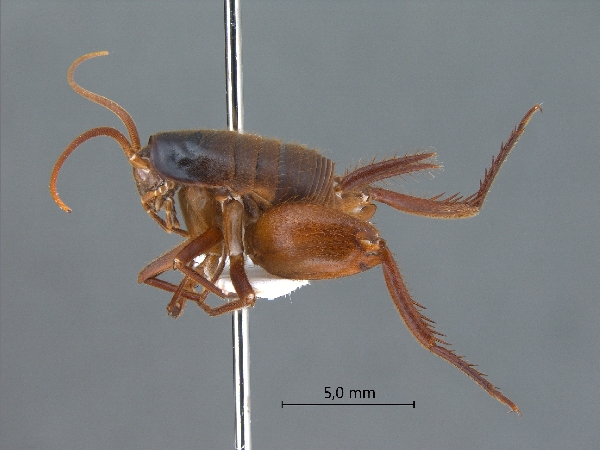 Beauties from the Iranian deserts: 15 species from Omid Paknia's collection - Thank you!
In June we present ant specimens from Iran collected by Omid Paknia during his PhD work. Our photograph Khishigdelger made the pictures of these amazing species: have a look, please!
April-May 2013: Courtesy of Himender Bharti: 27 newly described species from India - the secrets of the Himalayas
Dr. Bharti and his students are among the most productive ant taxonomists at present. The Indian subcontinent harbours an amazing variety of species new to sciences. Here we present pictures provided by Bharti's team: Have a click! Thank's for this fine cooperation!
NEW in March 2013: 14 species most of them new to sciences
The new issue of ASIAN MYRMECOLOGY came up with twelve newly described species. Here we present the original pictures of 14 species that are shown in that volume. Have a closer look to the new species!
NEW in March 2013: Three more specimens from Ulykpan Aibek's collection!
In March 2013 we are presenting three more specimens from Mongolia, from Ulykpan Aibek's collections. Let's see!
More specimens from Ulykpan Aibek's collection!
In January 2013 we present more species from Mongolia, from the collection of Ulykpan Aibek. Have a look to our pictures!
The first specimens from Ulykpan Aibek's collection!
The ants of Mongolia are our special mission! In cooperation with Aibek U. we proudly present 10 ant species from Mongolia, including such interesting species as Polyergus nigerrimus. The pictures have been taken bei our photographer Khishgee as usual. We are aiming at renewing all pictures from Mongolian ant species, so there will be more pictures coming soon! Have a look to Aibek's collection.
NEW in September and October 2012: The first Aenictus specimens from Thailand
We have set up a cooperation with Dr WEEYAWAT JAITRONG, who is the Asian specialist for Aenictus. Find here the first pictures of some two specimens from Thailand. More pictures of these species will be here available soon. See Zootaxa (only Abstract!) for Dr Weeyawat's latest work. And here to our pictures for September and October!
NEW in August 2012: Specimens from Borneo
Summer holidays almost everywhere, and also in our lab. We have been on expedition to Southern Siberia, therefore our July presentation is skipped. Here are some pictures from Bornean ant species for August. Martin is currently working on some Borneo ant papers, so we had a look to our collection and found some interesting specimens there. Let's see...
NEW in June 2012: More ant species from India!
In June we present more species from India, from Himender Bharti's collections. Our gallery shows the amazing diversity of the ants from the Himalaya!
NEW in May 2012: Ants from India!
This month we presents ants from India, from Himender Bharti' collections.
These are ants from the Himalaya and we are proud to present them on the Web. Have a look to our pictures!
NEW:
Made in Mongolia

: The first ant pictures from our lab in Ulaanbaatar: 16 species from China!

After a long period of preparation, we proudly present here the first outcome of our efforts: 16 ant species from the collection of John R. Fellowes, editor of ASIAN MYRMECOLOGY, who sampled the specimens from different regions of China.
The pics have been prepared on our well-proven Leica Z6 Apo A that we brought from Ulm. Little change to before: instead of senior photographer Hans Peter Katzmann our new staff Khishigdelger Enkhtur, now chief photographer and project manager,mounted the specimens and took the pics. Congrats to your work, and welcome at www.antbase.net!

Ants from the Peoples Republic of China are still rare in Internet collections, so we are happy that we can unravel some of these "hidden secrets". Take a look to what John R. Fellowes had collected some years ago and visit our Ants of China! More species are about to come.
NEW in March and April 2012: More ants from China!
These months we prepared even more ants from China, from John Fellowes' collections. Some of these ants had been photographed in India, by Himender Bharti, as a part of our cooperation in ANeT. Others come form our lab in Ulaanbaatar, photographed by Khishigdelger. Have a look to our collection!
The Ants of Iran
Iran is a vast country with a total area of 1.6 million square kilometers, which is located in the mid-latitude band of arid and semi-arid regions of the Old World, in Southwest Asia. Biogeographically southwest Asia represents a transition zone between three regions: Palaearctic, Afrotropical and Oriental. Iran's borders at the south and east are near to the Afrotropical and Oriental regions, respectively. Although arid and semi-arid areas cover more than half of the country, Iran also includes high mountains with alpine areas, broadleaf forest in the southern coastal plains of the Caspian forests, and steppe forests in the north and west. The Iranian ant fauna has been poorly investigated. So far 142 species belonging to 32 genera have been recorded from Iran (Paknia et al. 2008, Paknia et al. 2010), which is still far from the real number.
Have a look at the marvels of the Iranian desert...
The Ants of Central Europe
Dr. Bernhard Seifert of the "Senckenberg Museum für Naturkunde Görlitz" is one of the best known German ant researchers. After having published the most important ant species of Germany from his famous book: "Ameisen: beobachten, bestimmen", we continue our collaboration with a new section on the Ants of Central Europe. This new part of our website is a teamwork between www.antbase.net, Dr. Seifert and the Natural History Museum Vienna, where Daniela Magdalena Sorger took the pictures of these beautiful ants.
Have a look...
The Ants of Southeast Asia
This website is dedicated to the ants of Poring, Kinabalu National Park, Sabah, Malaysia, a tropical rainforest with the world's highest ant diversity: 650 species of ants from 81 genera and 8 subfamilies of the Formicidae have been found there. In our virtual museum of natural history you find pictures of Aenictinae, Cerapachyinae, Dorylinae, Dolichoderinae, Formicinae, Myrmicinae, Ponerinae, and Pseudomyrmecinae.
Have a look...
Ants of Germany
Dr. Bernhard Seifert of the "Staatliches Museum für Naturkunde Görlitz" is one of the best known German ant researchers. In Antbase.net he shows pictures of the most important ant species of Germany from this famous book: "Ameisen: beobachten, bestimmen" (Naturbuchverlag).
GO!
Ants of Mongolia
Mongolian ants are hardly studied. Here we present the most important species. These ants live in the deserts and steppes of Central Asia.
GO!
© 2003-2014. Martin Pfeiffer. University of Ulm.
Designed and maintained by Martin Pfeiffer and Anu Nasanbat, Department for Ecology, Mongolian National University